BIOGRAPHY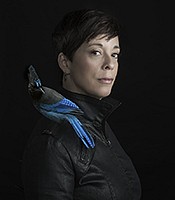 EDUCATION
1998 - 2000 Art and Painting Program, Emily Carr University of Art and Design, Vancouver, Canada
1983 - 1987 Graphic Design and Communications, College Sainte-Foy, Quebec City, QueĢbec
AWARDS
2017: Archeus, 2015 acquired for permanent collection, Morris Museum, Morristown, New Jersey
2015: Represented Texas at the Women to Watch 2015 Exhibit at the National Museum of Women in tArts, Washington, DC
2015: Azul, 2011 acquired for permanent collection, Museum of Photographic Arts, San Diego, California
2011: Winner KiptonART 2011 Rising Star Program, New York
2010: Selected for 2010 Open Portfolio, Chelsea Art Museum, New York
2003: Grant Recipient, Conseil des arts et des lettres du QueĢbec, QueĢbec, Canada
CORPORATE COLLECTIONS
Chevron Corporation, Calgary, Canada

Bacardi Corporation, Miami, Florida
Johnsonville Corporation, Wisconsin
Bloomingdale's Corporate, New York, New York
Devmont Corporation, MontreĢal, Canada
The Epic Hotel, Miami, Florida
University of Iowa, Iowa City, IA

Wasmer, Shroader Financial, Naples, Florida
EXHIBITIONS
2018
Palm Beach Modern + Contemporary, West Palm Beach, Florida | Catherine Edelman Gallery Art Palm Beach 2018, West Palm Beach, Florida | The Directed Art Modern
2017
Solo Show, Morristown, New Jersey | Morris Museum
International Art Show, Austin, Texas | POP Austin
Art Miami, Miami, Florida | Catherine Edelman Gallery
Scope Miami Beach, Miami Beach, Florida | The Directed Art Modern Art Toronto, Toronto | Galerie de Bellefeuille
AIPAD 2017 The Photography Show, New York, New York | Catherine Edelman Gallery
POP Austin's 2017 SXSW Art Hang, Austin, Texas
Palm Beach Modern + Contemporary, West Palm Beach, Florida | Catherine Edelman Gallery Art Palm Beach, West Palm Beach, Florida | Galerie de Bellefeuille
2016
Museum of Photographic Arts (MOPA) "Beauty and the Beast: The Animal in Photography," San Diego, California Art Miami, Miami, Florida | Catherine Edelman Gallery
Expo Chicago 2016, Chicago, Illinois | Catherine Edelman Gallery
Texas Contemporary, Houston, Texas | Michele Mariaud GalleryArt Toronto, Toronto | Galerie de Bellefeuille
Art Southampton, Southampton, New York | Saatchi Art
Market Art + Design, Bridgehampton, New York | Michele Mariaud Gallery
Photo London 2016, London, United Kingdom | Catherine Edelman Gallery
Art New York, New York | Galerie de Bellefeuille
AIPAD 2016, New York, New York | Catherine Edelman Gallery and Verve Gallery of Photography Print Auction, Houston, Texas | Houston Center for Photography
Art Palm Beach, Palm Beach, Florida | Thomas Riley Studio
2015
Art Miami, Miami, Florida | Catherine Edelman Gallery
Women to Watch, Washington, D.C. | National Museum of Women in the Arts
Solo Show, Chicago, Illinois | Catherine Edelman Gallery
Solo Show, Boston, Massachusetts | Lanoue Gallery
Solo Show, Stockholm, Sweden | Couture Galleri
Expo Chicago, Chicago, Illinois | Catherine Edelman Gallery
Art Market Hamptons, Bridgehampton, New York | Michele Mariaud Gallery
AAF Hampstead, London, United Kingdom | Four Square Fine Arts
Art Miami New York, New York, New York | Catherine Edelman Gallery
Paris Photo, Los Angeles, Los Angeles, California | Catherine Edelman Gallery
Art Market San Francisco, San Francisco, California | Michele Mariaud Gallery
AIPAD Photography Show, New York, New York | Catherine Edelman Gallery and Verve Gallery of Photography Art Breda, Bred, Netherlands | Artitled Contemporary Art
London Art Fair, London, United Kingdom | Four Square Fine Arts
Group Show, Lima, Peru | Galeria Impakto
Group Show, Naples, Florida | Thomas Riley Studio
Group Show, Austin, Texas | Saatchi Art
Group Show, Dallas, Texas | Smink Dallas
Art Miami, Miami, Florida | Catherine Edelman Gallery
AIPAD Photography Show, New York, New York | Catherine Edelman Gallery and Verve Gallery of Photography AAF Hampstead, London, United Kingdom | Four Square Fine Arts
AAF Hong Kong, Hong Kong, China | Michele Mariaud Gallery
Art Palm Beach, Palm Beach, Florida | Michele Mariaud Gallery
Art Silicon Valley, San Mateo, California | Catherine Edelman Gallery
Art Southampton, Southampton, New York | Jackson Fine Art
KunstRAI, Amsterdam, Netherlands | Artitled Contemporary Art
Paris Photo, Los Angeles, Los Angeles, California | Catherine Edelman Gallery
Realisme Art Fair, Amsterdam, Netherlands | Artitled Contemporary Art
Solo Show, Santa Fe, New Mexico | Verve Gallery of Photography
Solo Show, Naples, Florida | Thomas Riley Studio
2013
Architectural Digest Home Design Show, New York, New York
AAF Hong Kong, Hong Kong, China | Living with Art Gallery
AAF New York, New York | Living with Art Gallery
Amsterdam Art Fair, Amsterdam, Netherlands | Artitled Contemporary Art Art Fair Hamburg, Hamburg, Germany | Artitled Contemporary Art
Art Rotterdam Week 2013, Rotterdam, Netherlands | Artitled Contemporary Art Art The Hague, Amsterdam, Netherlands | Artitled Contemporary Art
Art Warehouse, Rotterdam, Netherlands | Artitled Contemporary Art
FotoFever Photography Art Fair, Paris, France | Michele Mariaud Gallery
Group Show, Santa Fe, New Mexico | Verve Gallery of Photography
Masters of LXRY Fair, Amsterdam, Netherlands | Artitled Contemporary Art Realisme, Amsterdam, Netherlands | Artitled Contemporary Art
Solo Exhibition, Stockholm, Sweden | Couture Galleri
Texas Biennial, San Antonio, Texas | Blue Star Contemporary Art Museum Toronto Art Fair, Toronto, Canada | Galerie de Bellefeuille
2012
Art Basel, Miami Beach, Florida | Avant Gallery
Art Warehouse, Rotterdam, Netherlands | Artitled Contemporary Art
Artantique Art Fair, Utrecht, Netherlands | Artitled Contemporary Art
FotoFever Photography Art Fair, Brussels | Artitled Contemporary Art
Realisme Art Fair, Amsterdam, Netherlands | Artitled Contemporary Art
Secret Paradise, Group Show, Munich, Germany | Lumas Gallery
The Amsterdam Photo Art Fair, Amsterdam, Netherlands | Artitled Contemporary Art Toronto Art Fair, Toronto, Canada | Galerie de Bellefeuille
2011
Group Show, New York, New York | Strico Gallery
Group Show, New York, New York | Cirkers Fine Art Storage Armory Group Show, Hublot, New York
NeoCon, Chicago, Illinois | Holly Hunt
Secret Garden, New York, New York | Denise Bibro Fine Art
The Artist Project, New York, New York
2010
KiptonART 2011 Rising Stars, New York, New York | KiptonART Open Portfolio, New York, New York | Chelsea Museum
Pool Art Fair, Miami, Florida
2009
Group Show, Naples, Florida | Longstreth Golberg
Group Show, Naples, Florida | PLG Art Gallery
Group Show, Naples Florida | The VonLiebig Art Center Third on Canvas Group Show, Naples, Florida | Room Interior
Group Show, Calgary, Canada | Wallace Gallery
Solo Show, Naples, Florida | Jamali
2008
Friends of Art Studio Tour, Naples, Florida | Naples Museum of Art Group Show, Alba, Italy | Camandona Art Gallery
Group Show, Naples, Florida | Judith Liegeois Designs & Gallery
2007
Group Show, Alba, Italy | Camandona Art Gallery
Land Sand & Time, Naples, Florida | Trudy Labell Fine Art Solo Show, Naples, Florida | Trudy Labell Fine Art
2006
Group Show, MontreĢal, Canada | MontreĢal Museum of Fine Arts Gallery Group Show, Naples, Florida | Trudy Labell Fine Art
MontreĢal Museum of Fine Arts, MontreĢal, Canada
Solo Show, Naples, Florida | Trudy Labell Fine Art
2005
Group Show, MontreĢal, Canada | MontreĢal Museum of Fine Arts Gallery Land Sand & Time, Naples, Florida | Trudy Labell Fine Art
MontreĢal Museum of Fine Arts, MontreĢal, Canada
2004
Group Show, MontreĢal, Canada | Galerie Majellart
Group Show, MontreĢal, Canada | MontreĢal Museum of Fine Arts Gallery Group Show, MontreĢal, Canada | Galerie Madeleine C
MontreĢal Museum of Fine Arts, MontreĢal, Canada
Solo Exhibition, MontreĢal, Canada | Galerie Espace
There is a very simple way to describe the work of Austin, Texas-based visual artist Ysabel LeMay: W.O.W.
It stands for 'Wonderful Other Worlds', the panoramas of natural splendor she creates up through the process of hypercollage. Her composite landscapes, the real world remixed to paradisal perfection, are so vividly realized that one feels drawn not just to view but to step into them.
In 2010, LeMay was announced the winner of the KiptonART Rising Star Program, an initiative to promote and advance promising new artists. From that success followed more than 100 exhibitions of LeMay's work around the globe. Her work has been acquired for the corporate collections of Chevron, Johnsonville, Bloomingdale's and Bacardi, to name a few. In 2013, LeMay participated in the Texas Biennial at the Blue Star Contemporary Art Museum in San Antonio, and in 2015, she represents Texas at the fourth edition of Women to Watch, at Washington, D.C.'s National Museum of Women in the Arts.
Born and raised in Quebec, Canada, LeMay fastened her connection to the natural world as a small child, at her family's secluded cottage in the north of the province. Though always most at peace in the wilderness, it is in the jungle of the advertising world that LeMay honed the craft of visual expression. Over the course of 15 years, she handled graphic design, art direction, and the operation of her own agency.
The moment came, though, when she sought a more rewarding and beneficial path for her creativity. LeMay refocused initially on painting and then photography, with which she would collect the raw materials for her digital collages. Traveling extensively, LeMay and her camera capture fragments of nature — plants, animals and the elements — constantly replenishing her voluminous visual catalog of the living world.
While her technique is high-tech, LeMay's hypercollage process is highly instinctual and organic, allowing each piece to dictate its own destiny. From a single, simple starting point — an image, a color, an emotion — she follows a meticulous process. First isolating and extracting elements of her photos, LeMay then weaves these fragments together into intricate compositions of resplendent beauty.
Now approaching new technological horizons to present her work, LeMay nonetheless seeks authenticity of experience over novelty. She speaks effusively of the artists whose own work has inspired, informed and enriched her life. With the moments in time and spaces in the imagination she creates, she strives to do the same for anyone who will venture into her Wonderful Other Worlds.
A video documentary of the artist, Ysabel LeMay in her day to day life.
Produced by Verve Gallery of Photography - September 2014
KiptonART Featured Artist Interview with 2011
KiptonART Rising Winner Ysabel Lemay
At what age did you know you were an artist? What was the first work of art you created?
I was five. At pre-school, everyday I use to spend the first two hours painting. It was by far the best hours of the days. We were given large sheets of paper and buckets of gouache paints. To this day, I still remember the scent of the paint and the joy I experienced creating those paintings.
As a KiptonART Rising Winner, what do you hope will happen for you this year?
I hope this year's association with KiptonArt will bring forth an increase in visibility within the contemporary art scene, especially with New York as well as public awareness which is essential for the growth of my art career at this point.
What is one of your favorite past exhibitions?
About five years ago I saw an exhibition by the artist Jérôme Fortin at the Montreal Museum of Contemporary Art that completely transported me to another level of awareness. It was the most intelligent and beautiful art I had ever seen. I understood then the powerful impact an artist could have on a person's life. I was standing in the middle of the museum, in complete awe, desiring more than anything else to create artworks that one day would transport people as much as I was at that moment. It was simply Divine.
Who/what is your biggest influence or inspiration right now?
Joan Mitchell for her strength and intelligence behind her paint strokes and Robert Raushenberg for his eternal creative youth.
What is the first thing that comes to mind after an opening?
Thank God it's over! Lol I can sleep now!
And after I let the magic happen. I know that amongst all these people that visited the show there is always one special encounter that I experience. A person with who I will forge a relationship. Someone always comes into my life to help me expand.
Why do you work in this particular medium?
This is a choice I made after spending eight years painting on canvas and using a brush. The day I took a camera in my hands and started documenting Nature, I felt an amazing sense of creative freedom. At the moment, I am enjoying this freedom of instant expression that the camera allows. I will continue to use this medium for as long as I have something to say with it. Somewhere within all of this, photography is also another stepping stone in the evolution of my art.
Do you collect anything?
I collect art and random images. They represent the structure of my own emotions, aspirations and probabilities of thoughts.
Which of your own works on KiptonART are you favorite? Why?
The ones that were channeled through me. I am in a constant meditative state when I create them. They just seem to appear right there in front of me effortlessly. They really do come from another dimension. A place not restricted by the boundaries of space and time.
LeMay took a new turn in 2010 as she devotes herself full-time to the medium of photography. Combining her technical expertise with her deep-seeded roots as a painter, Ysabel LeMay continues her exploration into the power and divinity of nature through "Photo-Fusion". This innovative technique is a lengthy process during which hundreds of photographs are taken, light and visual properties attuned and assembled one detail at a time in a painter-like fashion to form one large composition.