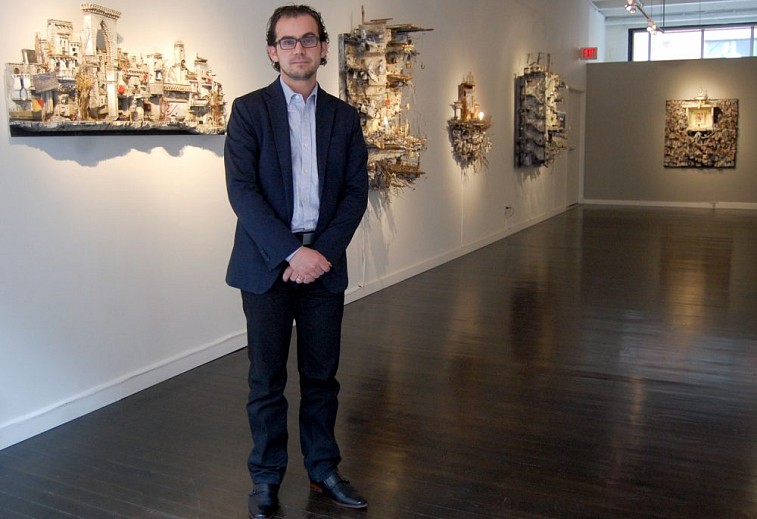 Watching the War for His Native Syria, Artist Mohamad Hafez Sculpts Models of a Ravaged Homeland
April 27, 2017 - Greg Cook WBUR
The Syrian-born, New Haven-based artist and architect Mohamad Hafez says he was in Italy in 2014, picking out marble for a Houston construction project, when he got a call. His brother-in-law, a Syrian architect, was in a refugee camp in Sweden.
"It turned out he had ridden one of those dinky boats across the Mediterranean," the 32-year-old says. "Things had gotten really bad back home. Life had hit a dead end. In order to seek a better life for himself, my sister and his family back home, he decided to ride the Mediterranean."
Hafez says he flew to Sweden to see his brother-in-law, the first family member to visit him in the camp, and learned his story of leaving Syria for Jordan, crossing from Turkey to Greece on a 14-foot-long boat crammed in with some 50 other people, "getting imprisoned in Greece, being chased by the Serbian army, being fired at, sleeping on the damp ground in the wilderness, crossing borders on foot."
Since 2004, Hafez has been making detailed dioramas depicting his homeland. "It started out of nostalgia and homesickness," he says, after he'd come to the United States to study electrical engineering and then architecture at Iowa State University in Ames and his "single-entry only" student visa left him unable to return home to see his family for eight years.
But as Syrian pro-democracy protests of 2011 turned into the civil war that is estimated to have left some 400,000 dead, his models of urban Syria — some of which are in his exhibition "HOMELAND inSECURITY," on view at Lanoue Gallery, 450 Harrison Ave., in Boston, through Sunday, April 30 — have become ravaged as well.
His brother-in-law's harrowing journey prompted his to create "Desperate Cargo," which he exhibited at Norwalk Community College in Connecticut last fall. An inflatable dinghy was suspended from the gallery ceiling, capsized, with orange life jackets piled on top. Hanging down from the overturned boat, Hafez says, were "deconstructed streets with fighter jets dropping bombs, with the sound of footage from Syria of jets bombing and people yelling."
These sculptures of miniature ruins are solemn and haunting, the creations of, Hafez says, "an artist witnessing the death of his country."
'Where I Came From'
"We used to go back home for summer vacations, just a few months, nothing long enough to experience and discover your roots," says Hafez, who was born in Damascus, Syria, and raised in Saudi Arabia. "I grew up not knowing who I was or where I came from."
Then when he was 15, he says, his family moved back to Damascus. "That was the first time I had a full experience of my home country … and what is so special about being Syrian."
"I grew up so infatuated with old Damascus," Hafez says. "All of a sudden you're wandering century-old streets." He recalls a city of mosques and churches, 30-foot-tall Roman columns, millennia-old Greek buildings, contemporary markets. "Layers upon layers of culture and civilization that are all sprinkled around one place."
"In Syria and Lebanon, you have the East and West blended together. And this is not new to us. This goes way back in history," Hafez says. "It was just a celebration of life and diversity and a beautiful society."
That was what he was missing, one night in Iowa, 14 years ago, when he collected scraps from architectural models for class and began making miniature versions of Damascus.
"If I cannot go home, I have the ability to reproduce home in a miniature diorama setting. And that process became very therapeutic and healing for myself," Hafez says. "I didn't imagine an audience for it."
'You Might Not Be Back Soon'
Hafez returned to Syria in 2011, during the Arab Spring. He says he was traveling to plan a bank headquarters for Beirut being designed by Pickard Chilton, the New Haven architecture firm for which he's worked for the past eight years. Visa problems delayed his return to the United States, leaving him with six weeks in Damascus.
"While the world around me was freaking out, my parents were getting very worried about whether they'd let me back into the United States or not," Hafez says. "I felt that trip was kind of a gift from God. I had a feeling: Make the most of your trip because you might not be back soon."
Hafez says, "I don't think people ever anticipated this amount of viciousness and devastation. It caught us completely by surprise. I don't think I picked up a single pencil in the first year of the conflict. I was so much in awe and traumatized. It wasn't until two years into the war [that he made art again], I was so filled up and exploded."
His new dioramas — like "Collateral Damage" — were made from cast plaster, paint, parts of old radios and fans, rusty drill bits and nails. They depict cities smashed to ruins. While in Syria in 2011, he recorded the sounds of children playing in the streets, calls to prayer, conversations with friends. "These recordings, I discovered them a few years later, after I had returned to America. I started getting very emotional about what was happening in the country. I realized I'd captured a moment of peace that was no longer existent," Hafez says. He began to incorporate these sounds into his art. "That's what you hear coming out of the model."
Back to News