BIOGRAPHY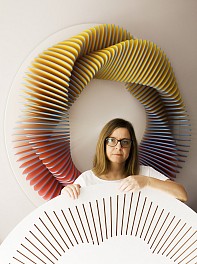 Anna Kruhelska is a visual artist and former practicing architect based in Lodz, Poland. Her career in architecture included a vast array of major projects in Russia, Malaysia, and the UK, all of which formed her understanding of form, symmetry and space.
Inspired by minimalism, architectural composition and geometry Anna Kruhelska focuses on abstract, three-dimensional paper and wooden wall reliefs that work by reflecting light – with the overall effect depending on the viewer's perspective. The central concept of her work is the interplay between light and shade, contrast, color and the repetitive patterns created by the folds and hollows in the work.
Kruhelska's art practice is also informed by her fascination with technology as she creates the works initially on a computer through creative coding and parametric modelling and only then translates it to physical objects through use of machines like cnc cutters and many hours of manual work spend on folding, glueing and painting.
"My process always starts in front of a computer screen. I use software and tools primarily developed for architecture. I draw shapes and forms and try to find repeating patterns. When I am satisfied with the project, I need to translate 3-D models to 2-D, so that they can be cut from a flat sheet of paper or plywood. The process of cutting paper is performed by cnc cutter. Once individual shapes are cut, they all need to be folded and glued manually. After hours of folding, glueing and painting when all the shapes are ready, the whole work can finally be assembled."


Constant Change series:

"The Constant Change series explores movement, cycles and transition through 3-D shapes and the interplay between colors. Inspired by the idea of sculpting with numbers, parametric modelling and the circle representing a movement that never ends, I wanted to create artworks that would change continuously.

Unlike with my previous works, which are monochromatic and minimalistic ones, with this series I wanted to play with bold colors and the dialogue between them. I find it fascinating to see how the colors change together with the shape along the circumference of the circle. That encourages the viewer to move around the piece and to view it from different angles and perspectives."
October 2023 - Lanoue Gallery, Boston, MA
26 Aug – 30 September 2023 – 'Order in the Wind', Laura Rathe Fine Art, Dallas
24 Jun – 19 August 2023 – 'Art of paper' group exhibition at LRFA, Dallas, USA
19 June – 21 August 2023 – Summer Group Show, Woolff Gallery, London, UK
10 – 14 May 2023 – Affordable Art Fair, London Hampstead, with Woolff Gallery
March 2023 – 'Decade' group exhibition at LRFA, Dallas, TX
Feb 2023 – Art Wynwood with Oliver Cole Gallery
Jan 2023 – Art Palm Beach + Contemporary with Oliver Cole Gallery
Dec 2022 – Jan 2023 'Superspectra' group exhibition at LRFA, Houston, TX
Nov –Dec 2022 – Art Miami with Oliver Cole Gallery
Nov 2022 – Group exhibition at Woolff Gallery, London, UK
November 2022 – Discovery Art Fair, Frankfurt with Arp Galerie
October 2022 – Affordable Art Fair, London Battersea, with Woolff Gallery
Sept 2022 – Art on Paper, New York, with Muriel Guepin Gallery
June – July, 2022 – 'Dual Perspective' group exhibition at Oliver Cole Gallery, Miami
May 2022 – Affordable Art Fair, New York, with Muriel Guepin Gallery
April –May 2022 Magnae Chartae, group exhibition curated by Michele De Lucchi, Venice, Italy
March 2022 – Palm Beach Modern + Contemporary with LRFA
March 2022 – Affordable Art Fair, London Battersea with Woolff Gallery
Dec 2021- Jan 2022 – 'Imagine' group exhibition at LRFA, Houston, TX
Nov – Dec 2021 – 'The little things' group exhibition at LRFA, Dallas, TX
July 2021 – Affordable Art Fair, London Battersea
April – May 2021 – ARP Galerie, 'Paper meets wood' – Hanau, Germany
Feb – March 2021 – 'Resilience' group exhibition at LRFA, Dallas, TX
Feb –April 2021 – 'Turning the page' group exhibition at LRFA, Houston, TX
November 2020 – Woolff Gallery, London, UK
March 2020 – Affordable Art Fair, London Battersea, with Woolff Gallery
November 2019 – Art fair, Warsaw, Poland
June 2019 – Drukarnia, Lodz, Poland