BIOGRAPHY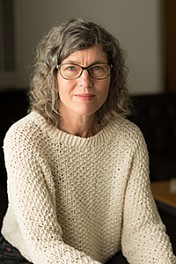 BIOGRAPHY
Born in Cincinnati, Ohio, 1954.
EDUCATION
1976, B.A., Immaculate Heart College, Los Angeles, California
ABOUT
Carrie McGee's latest work extends her ongoing project of creating suspended works inspired by process, improvisation, and color.
A sense of meditative equilibrium has long been a core aspect of McGee's work; currently, there is a special focus on finding balance in distinct ways.
A new artistic direction has emerged as the work expands out from a predictable grid structure to more varied arrangements, some of which include curved shapes.
Here, each work is uniquely balanced, with acrylic panels of mixed size making up an intentional whole. As the underlying structure opens, fresh relationships develop. There is a necessity to these arrangements, an interdependence involved in each grouping.
Within her art making, McGee employs alternative ways of applying pigments and other materials to transparent acrylic panels. In addition to rust imprints and pigment evaporations, paint pours have entered the picture – much like wet-in-wet watercolor techniques – resulting in a palpable materiality.
McGee's interest is to tap into nature, and the processes she initiates result in paintings that feel organic. Her continuing exploration of color and texture are a poetic response to nature, each palette developing until a unique emotional vibration is achieved.
McGee has lived in many parts of the United States, having migrated from Cincinnati to Los Angeles, New York, and finally Nashville. She has worked in historic buildings as a conservation painter, and as a scenic painter for a variety of films and sets. McGee received a Visual Arts Fellowship from the National Endowment for the Arts, as well as a residency fellowship from the Christoph Merian Foundation in Basel, Switzerland. Her paintings and constructions have been exhibited regularly for the past thirty years.
SELECTED PUBLIC COLLECTIONS
ADVANTAGE BUSINESS CENTERS, Washington, D.C
AM MED DIRECT, Nashville, Tennessee
BATTERY VENTURES, Waltham, MA
BOULT CUMMINGS CONNERS & BERRY, Nashville, Tennessee
CEACO/GAMEWRIGHT, Newton, MA
CHRISTOPHER MERIAN FOUNDATION, Basel, Switzerland
CROWELL & MORING, LLP.
MARRIOTT RIVERCENTER, San Antonio, TX
MARRIOT HOTEL, Nashville, TN
MAYO CLINIC, Jacksonville, FL
NORDSTROM CORPORATE COLLECTION
PINNACLE BUILDING, Atlanta, GA
ROBERT AND KATHY GUYTON, Atlanta,GA
SAKS FIFTH AVENUE CORPORATE COLLECTION
STEPTOE & JOHNSON, LLP
STATE STREET CORPORATION, Boston, MA
STEARNS WEAVER MILLER WEISSLER ALHADEFF & SITTERSON,Miami, FL
TENNESSEE STATE MUSEUM, Nashville, TN
WESTERN ASSET MANAGEMENT, Pasadena, CA
PUBLIC COMMISSIONS
2016 East Tennessee Children's Hospital, Knoxville, TN
Ripples and Flow, a site-specific suspended acrylic and stainless steel sculpture installed in a neonatal intensive care unit

2015 Abe's Garden, Nashville, Tennessee
In the Garden, a site-specific suspended acrylic and stainless steel sculpture installed in a nonprofit memory care community for Alzheimer's patients

2013 Music City Center, Nashville, Tennessee
On This Ground, a site-specific suspended acrylic and stainless steel sculpture
2013 First Bank, Green Hills branch, Nashville, Tennessee
Procession, a site-specific suspended acrylic and stainless steel sculpture

2011 Goodlettsville Public Library, Davidson County, Tennessee
Continuum, a suspended acrylic and stainless steel sculpture
2010 Frist Center for the Visual Arts, Nashville, Tennessee
Tides and Currents, a sculpture suspended in Martin Art Quest gallery August 2010-July 2012
2007 Daviess County Public Library, Owensboro, Kentucky
Constellation, a cast acrylic and stainless steel sculpture suspended in the library
FELLOWSHIPS
1997
Internationale Austausch Ateliers Basel Exchange Artist, Christoph Merian Foundation, Basel, Switzerland.
1996
Visual Arts Fellowship, National Endowment for the Arts/Southern Arts Federation.
1989
Residency, MacDowell Colony, New Hampshire.
Solo Exhibitions
2020 Waves of the Same Sea, Lanoue Gallery, Boston, Massachusetts
2019 Recent Works, Lanoue Gallery, Boston, Massachusetts
2017 Sea Changes, Lanoue Gallery, Boston, Massachusetts
2016 Patricia Rovzar Gallery, Seattle, Washington
2014 Suspensions, Patricia Rovzar Gallery, Seattle, Washington
LanoueGallery, Boston, Massachusetts
Recent Works by Carrie McGee and Jeri Eisenberg
Cumberland Gallery, Nashville, Tennessee
2013 North Meets South: Jeffrey Cortland Jones & Carrie McGee
The Green Building Gallery, Louisville, Kentucky
2012 Lanoue Gallery, Boston, Massachusetts
2011 Lanoue Gallery, Boston, Massachusetts
2010 Lanoue Gallery, Boston, Massachusetts
2009 Anomaly, CTE Gallery, Charlotte, North Carolina
2008 Project Rooms, Fenn Gallery, Woodbury, Connecticut
2007 Cumberland Gallery, Nashville, Tennessee
2006 Lanoue allery, Boston, Massachusetts
2005 Lanoue Gallery, Boston, Massachusetts
Cumberland Gallery, Nashville, Tennessee
Arkansas State University Fine Arts Center Gallery, Jonesboro, Arkansas
2003 Lowe Gallery, Los Angeles, California
2002 Flying Solo, Nashville International Airport, Nashville, Tennessee
Cumberland Gallery, Nashville, Tennessee
Lowe Gallery, Atlanta, Georgia
2000 Van Every Smith Galleries, Davidson College Visual Arts Center, Davidson, North Carolina
Lowe Gallery, Atlanta, Georgia
1999 Eklektikos Gallery, Washington, District of Columbia
1998 Lowe Gallery, Atlanta, Georgia
1997 Internationale Austausch Ateliers Region Basel, Basel, Switzerland
1996 Cheekwood Museum of Art, Nashville, Tennessee
1995 Greater Nashville Arts Foundation, Nashville, Tennessee
1989 Penine Hart Gallery, New York City, New York

Selected Group Exhibitions
2016 Beyond the Pour II: The Creative Process, Museum of Craft and Design, San Fransico, California
......... Spectrum, Blue Spiral, Asheville, North Carolina
2015 Carrie McGee and Dirk DeBruycker, Lanoue Gallery, Boston, Massachusetts
......... Gliding with Grace – a Time-Motion Continuum, (Kinetic and suspended mixed media work by Kim
......... Bernard and Carrie McGee,) Kaller Fine Arts, Washington, DC
......... Beyond the Canvas – Photography and Sculpture, Trudy Labell Fine Art, Naples, Florida
2014 Twenty Collaborations in Book Art, Nashville Public Library, Nashville, Tennessee
2013 Summer Salon, Fresh Paint Art Gallery, Los Angeles, California
2010 Cutting the Canvas, Kaller Fine Arts, Bethesda, Maryland
2008 Glow, CTE Gallery, Charlotte, North Carolina
2007 Altered Vision: Artists Look Beyond Sight Loss, Nashville Public Library, Nashville, Tennessee
..........New Faces, CTE Gallery, Charlotte, North Carolina
2006 Within and Beyond: Interpretations of the Grid, Tall Grass Arts Association, Park Forest, Illinois
2003 Women Beyond Borders, Frist Center for the Visual Arts, Nashville, Tennessee
..........Art in Tennessee, Frist Center for the Visual Arts, Nashville, Tennessee
2002 A Century of Progress, Twentieth Century Painting in Tennessee,
..........Cheekwood Museum of Art, Nashville, Tennessee
1999 National Endowment for the Arts/Southern Arts Federation Regional Visual Arts Fellowship Winners, ..........Southeast Center for Contemporary Art, Winston-Salem, North Carolina
1993 Bodily, Penine Hart Gallery, New York City, New York
..........Reverent/Irreverent, Vanderbilt University, Nashville, Tennessee
..........National Contemporary Painting Competition, Cheekwood Museum of Art, Nashville, Tennessee
1991 The Painting Project, Part 1, Four Walls, Brooklyn, New York
1989 Ten Abstract Painters, White Columns, New York City, New York

Selected Bibliography
2014 Joe Nolan, "Bound for Glory: Twenty Collaborations in Book Art,"
..........Nashville Arts, (March 2014)
2013 Unconventional: Nashville's Music City Center (The Convention Center Authority of the Metropolitan
......... Government of Nashville and Davidson Center © 2013)
..........Caroline Vincent, "Nashville Artist Carrie McGee Explores Goodlettsville History,"
......... Nashville Arts, (March 2013)
2012 The Art of Community, Janet & Jim Ayers' Collection of Contemporary Art, (Ayers Media, Inc., 2012)
......... Amanda Dillingham, "Carrie McGee - Acrylic and Rust," Nashville Arts, (November 2012)
2011 Cate McQuaid, "Carrie McGee: Mixed Media Constructions," Boston Globe, June 15, 2011
......... Lacey Daley, "Carrie McGee at Lanoue Fine Art," Artscope, June 9, 2011
2005 David Maddox, "Magic Markers," Nashville Scene, May 19-25, 2005
2003 Frist Center for the Visual Arts, Art of Tennessee (The University of Tennessee Press, 2003)
2002 "A Century of Progress: Twentieth Century Painting in Tennessee"
......... Tennessee Historical Quarterly, (Summer 2002)
2000 Jerry Cullum, "Emotional Intensity from Resin and Rust," Atlanta Journal Constitution, 9 June 2000
..........Terri Smith, "Plus Four, Cumberland Gallery," Art Papers, (March/April 2000)
1999 Susan Knowles, "Rust Never Speaks," Art Papers, (November/December 1999)
1997 Susan Knowles, "Carrie McGee," National Endowment for the Arts/Southern Arts Federation,
1996 Fellowships Catalogue
1996 Susan Knowles, "Carrie McGee," Art Papers, (November/December 1996)
1994 David Ribar, "Art on the Edge, Concrete Spaces Gallery," Art Papers, (March 1994)
1992 Shoichuro Higuchhi, "Art in New York Today, Carrie McGee: Washing Off the Scales of Culture,"
......... IDEA, no. 232 (1992), Japan
1989 K.K. Kozik, "Carrie McGee – Penine Hart Gallery," Cover/Arts New York, (September 1989)