BIOGRAPHY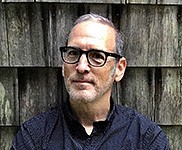 HENRY MANDELL
(b. New York, NY)
Trained as a traditional painter and printmaker, Mandell uses software to build elegant abstract paintings. His works are digitally painted by hand and are composed of thousands of words and data from scientific and literary texts. Mandell's process is exacting: each colored line is a separate letter, which has been pulled, stretched and altered in vector space one at a time. From idea – computer – HTML code – vector space – transformation – the resulting paintings are meticulously crafted and arrestingly beautiful. They are full of energy and intuitively convey the essence of the text embedded within the lines.
Mandell's paintings are products of his ongoing exploration of digital technologies, contemporary artistic practices, scientific principles and their merging effect on our lives. One series includes research on string theory, astrophysics and dimensionality; another is more introspective incorporating sonnets from Walt Whitman's Leaves of Grass. In tandem with his text-based paintings, Mandell also creates works comprised of simple shapes and patterns drawn into complex harmonic concerts further displaying Mandell's acute eye for color and texture – a strength the artist attributes to his extensive research on Mark Rothko while establishing a digital archive of the artist's work for the Estate of Mark Rothko.
Born in New York City, Mandell received a BFA from Ithaca College and later studied painting, graphic design, vector graphics, photography and Filmmaking at The School of Visual Art and Parsons The New School for Design. His works are included in several private and public collections including the Museum of Fine Arts, Boston, the Columbia Museum of Art, Columbia, SC, Collection of Christopher and Lori Rothko and the Michael and Anne Spalter Digital Art Collection.
_________________________________________________________________________________________________________
New York artist Henry Mandell explains the process and back story of his work, Tatara Fire, on view at the Columbia Museum of Art.